About Batu Karas
Batu Karas is famous for its surf, beautiful sunrises and sunsets, and a very friendly vibe. Whilst it is one of Java's most popular surfing spots for beginner or advanced surfer, it still hosts a lively fishing and rice farming community, giving you the opportunity to observe village life at close quarters, without feeling like you're visiting a tourist town.
Take a stroll along the beach in the mornings, and you can watch the farmers going out to their ricefields while the fishermen are just returning from a night at sea. Once the catch is in, the morning fish market comes alive, with buyers coming from around West Java to buy fresh tuna, octopus, sword fish, silver dory and prawns. In the late afternoons the farmers can be spotted on the beaches pulling in the massive nets. Their pay: whatever fish the fishermen won't sell.
Around Batu Karas you can also see villagers making the palm leaf roofing, called alang-alang which is used on traditional houses and shops throughout the village. Selling coconut juice, and making coconut palm sugar, known as gula merah, are also important traditional local industries. Young boys are highly practiced in the art of scaling coconut trees, and will tap as many as 60 coconut trees a day, for the sugar.
People in Batu Karas are friendly. But due to their limited English skills, will usually greet foreign tourists with a "hello mister", regardless of their sex.
And Villa Monyet, with its individual bungalows, enjoying fabulous beach view, is the perfect place to explore Batu Karas, Pangandaran the surrounding coast, and the culture of West Java.
Legok Pari Point Break
Jan-June (mid July)
:
offshore winds. The Point Break is the main surfing and swimming beach, it's ideal for learning to surf, as the gentle right-hand breaks over a sandy bottom that rolls up to 400 metres. It is one of the best surf spot for beginner to surf in Indonesia. More advanced surfer can take off right at the point, it has nice tubes when the wave is on. And 50 metres from the point the waves become more mellow, it's perfect for long boarder. It works most of the year, low tide and mid tide. It becomes really mellow when it's high tide, but it's perfect for beginner to practise. The Point Break is 10 minute walks from Villa Monyet.
July- September
:
cross-shore winds, but some inside section of the Point Break is protected by the hills. Otherwise it's consistent big swells.
October-December
:
offshore winds. The swell is relatively small, but otherwise it's still good small swell for beginner.
Surfing Children
:
Point Break (
Legok
Pari
beach) is an ideal spot for children to learn to surf, as there are few rips, and waves are not too scary.
The Reef Break
Feb-June
:
Offshore winds. The Reef Break is good for advanced surfers. It has fast walls that roll up to 150 metres. The Reef Break is in front of Villa Monyet, you can have tea or coffe at the the beach garden while watching the waves. Best time to surf at the Reef Break is when it's high tide.
Secret Hidden Spot
Feb-June : Offshore winds. Not for beginners; the waves are hollow and hard to take off , the point is right in front of the rock. Best time to surf at Secret Hidden Spot is when it's low tide. It works when it's around 5-6 feet swell, but over 6 feet is even better.

Cycling Around The Village
Take a slow cruise around the village on a bicycle; enjoy the sunrise, sunset and the beautiful views of Batukaras from up hills, the ricefields, the Batu Karas river, a blue lagoon, see how the locals live.
Around Batu Karas ;
Green Canyon (Cukang Taneuh)
Body raft down the jewel Green Canyon, which towers up to 20 metres above the river. It's 10 minutes motorbike ride from Villa Monyet. The fresh green water flows from the jungle. The amazing high wall of the canyon is like you are back to dinosaurs time. The drifting drizzle from the root of the trees above the canyon. The amazing cave where thousands bats live (you will not get to this cave easily, you will need a guide beacuse you have to swim far from where most people swim)
You can explore things by yourself easily. Guided tour will have different experience, you will know the place more. Laugh, smile and the local culture action is what you get while you explore the place.
Batuhiu (Shark Beach)
It's 15 kms away from Batukaras to the north, you will pass Batuhiu beach on the way to the Green Valley.
Didin Syaffudin is explaining how to protect the turtles from the bad people, breed the eggs and then release them when they are ready to go to the sea.
Sundanese Culture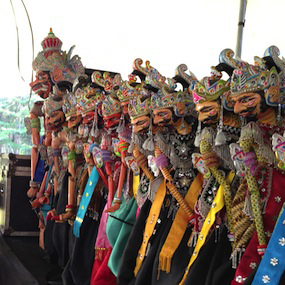 Wayang Golek (Wooden Puppet)
West Java's famous Wayang golek or wooden puppets are only
performed for special events such as the annual fishermen's festival, where an offering is made to the goddess of the sea – Nyai Roro Kidul, or wedding parties. If you'd like to see Wayang Golek in
action, our staff can take you to the wooden puppet makers, and you can learn how to manipulate the puppets. The puppet –maker is also a skilled performer and can adopt different voices, depending on which character he is maneuvering.
Music and Dance performance & Dance lesson.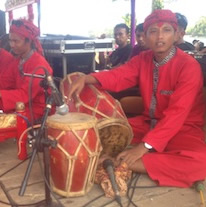 Local musicians and dancers can play their hypnotic and rhythmic Sundanese music, for groups of guests at Villa Monyet. Like it's more famous cousin, Balinese music, Sundanese music is also performed on gamelan . But don't ever suggest to a Sundanese person that their music is just a copy of Bali's. Any Sundanese will tell you the Balinese stole their music, and that it's Sundanese not Balinese music you hear in hotels, and everywhere in Bali. Unique to Sundanese music is the bamboo angklung –a series of bamboo pipes, which has been recognised by UNESCO as important cultural heritage. Cost rp 500,000 per group performance.
Sundanese Cooking Classes
Would you like to learn how to make a sambal that will blow your friends away? Or cook the infamous Pepes Ikan, or Pepes Jamur, a combination of local fish or mushrooms and special Sundanese spices, all steamed in banana leaves?
Or else learn how to make grilled fish or chicken, wonderful vegetarian soups, such as Sayur Asam or Pumpkin and tempe soup or fabulous lemongrass-infused
rice or make yellow rice? Take a cooking class at Villa Monyet. A 3 hour course includes shopping at the local markets for ingredients, cost of ingredients, as well as cooking class. Rp 200,000 / person
Pencak Silat Performance / Lessons
Local practioners, including very skilled young children, of the Indonesian martial arts, Pencat Silat, put on regular performances of this martial art. Ask Villa Monyet staff for details, or if you'd like to arrange a pencat silat lesson.
The Locals' Profession
Rice farmer is the major profession around the village.
Most of the fishermen live around the beach, and some of them are farmers as well.
Cutting the coconut flower to collect the juice from it to make brown sugar.
The women are making the alang-alang roof. It's made of palm leaf that grow along the Batukaras and Green Canyon river.
Take a guided village tour, and learn about the local rice culture, fishing, and see some villagers making palm sugar, how coconut trees are tended, and try to learn to speak the gutteral Sundanese language.